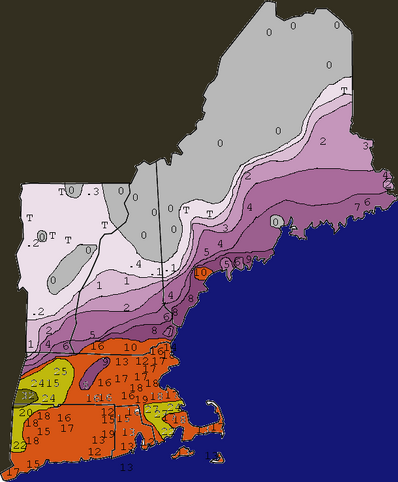 The Blizzard of 1996 was the strongest storm of the winter of 1995/1996. For many people in New England this storm ranks with the infamous Blizzard of '78. The Snow started for New England on Sunday, the 7th of January. At first, the snow seemed innocent as it slowly came down in light flurries. The image of light flurries however, was blown away after sunset on Sunday. The high winds impacted the coastal regions first, then they worked into the interior. Drifting was very bad with this storm, and many towns simply gave up until after the storm subsided.
The storm developed over southern Louisiana very early on Saturday, the 6th. It moved through the southeast, forming another low off the Carolinas. Up until this point, the low was relatively weak, measuring only 1008mb. On Monday, the 8th the low deepened to 984mb; a drop of 24 millibars. But still the low was not finished, as on Tuesday the 9th the low deepened to 980mb. By nightfall on the 9th, the low was well over the Grand Banks and Flemish Cap moving eastward.
Effects in southern New England
Edit
The storm brought a great deal of destruction. There were numerous reports of poles and wires down. Coastal flooding was a problem at the height of the storm. The islands received snow first, however there was some mixing during the late night hours of the 7th. Nantucket airport (KACK) reported a wind gust of 46 mph.
Effects in northern New England
Edit
North of the MA/NH border, snowfall amounts tapered off considerably. Coastal Maine received moderate accumulation, but just north of the coast amounts quickly went down to zero.
Selected Totals*
Edit
Only greatest and least accumulations will be listed here.
MASSACHUSETTS
Great Barrington...32
Amherst..............9
RHODE ISLAND
Woonsocket.......16
Newport..............12
CONNECTICUT
Danbury..............22
Groton................12
NEW HAMPSHIRE
Fitzwilliam..........16
Mt. Washington...0.4
MAINE
Portland..............10
Houlton...............Trace
VERMONT
Vernon................6
St. Johnsbury......Trace
Events close to the storm
Edit
The blizzard was book-ended by four other snowstorms. The two that preceded it were generally forgotten, and are not as well known. The two after the blizzard are also relegated to this same fate. The storms are:
Prior:

-January 5th frontal passage
Post:
Community content is available under
CC-BY-SA
unless otherwise noted.