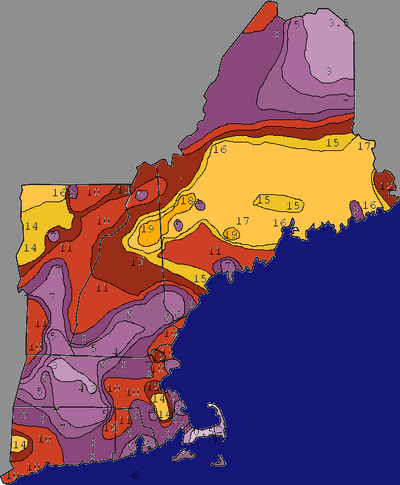 This storm was the first major event of the historic winter of 1995/1996. The low that brought this snowfall formed over the western Gulf of Mexico on the 18th. A new low formed off the coast of the Carolina's on the 19th and then it moved northward. Snow began in southern New England after dark on the 19th. The low moved southeast of Nantucket on the 20th, and by the 21st it was off of Nova Scotia. After doing this, the low stalled off the coast near Sable Island. When the snow came, it came thick and heavy. Almost everywhere experienced some sort moderate to heavy snowfall. Like the moderate snowstorm that occurred two and a half weeks later, this storm remains largely forgotten. This is due to the fact that also in that two weeks time a blizzard impacted New England.
Effects of the storm
Edit
While dumping a moderate amount of snowfall across inland New England, on the coast; coastal flooding was prevalent. There was minor erosion. Gale force winds buffeted the coasts.
Selected Totals
Edit
MASSACHUSETTS
Blue Hill.............14
Hyannis.............0.5
RHODE ISLAND
Foster................11
Kingston.............6
CONNECTICUT
Danbury..............14
Thompson...........5
VERMONT
Enosburg............16
Dover..................5
NEW HAMPSHIRE
Berlin.................19
Nashua...............4
MAINE
Augusta.............19
Caribou..............3
December 19-21st Snowstorm

Vital statistics

Participants
New England, Atlantic Canada
Date
December 18-28, 1995
Location
Massachusetts,Rhode Island,Connecticut,New Hampshire,Vermont,Maine,Nova Scotia, Newfoundland,New Brunswick